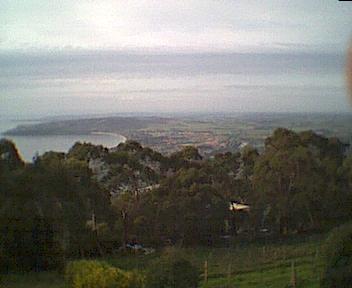 View of Port Phillip Bay, taken from Arthurs Seat, Mornington Peninsula, Victoria, by Emily Quinton
History of Dreamwork in Australia
By Carolyn Groth

One of the nice things I see about dreamwork in Australia is that because the number of "dreamworkers" in the country is small we tend to reach out to each other and acknowledge each other's diverse work styles more readily than in other places.

The geographical isolation from other countries of similar heritage invites us to continually seek out information (often using the internet) , to grow and be challenged in our ideas and practice.

I think we are fortunate to have such an multicultural society and to see first hand how culture can affect people's way of relating to and making sense of their dreaming lives.
The diversity amongst us has not allowed us to become rigid or fixed in our ways of working with dreams.
I believe our history of previous isolation of the Aboriginal peoples and the European invasion and white settlement, resents many opportunities for cutting edge research into influences on dream symbolism and dream content. I am fascinated by stories of Australian dreamers who dream not of our own unique landscape, but only landscapes belonging to their familial and cultural pasts and the implications on sense of "identity.:.
While I am intrigued by the "telling" dreams of Aboriginal Australians I can only hope that with the increasing "globalisation" of dreams, that the sacred stories and knowledge of these peoples continues to be respected and Aboriginal Law and culture is not exploited or misrepresented.
I would like to see dreamworkers around the world engage more with dreamworkers in the Asia Pacific region.
Finally, my Dream Wish list is to see the Association for the Study of Dreams come visit us " Down Under" for a "Desert Dreams" conference.

Dreams and the Genetic Code: http://www.users.bigpond.net.au/dreams-genes/

Australasian Sleep Association http://www.wfsrs.org/iasa.html
Australian Lung Foundation http://www.lungnet.org.au/
BiblioSleep http://www.websciences.org/bibliosleep/default.html
BiblioSleep currently consists of all sleep
and sleep-related papers from 1992 to the present.
Epworth Private Hospital http://www.epworth.com.au
– includes the Epworth Sleepiness Scale

Monash University/ Alfred Hospital
http://www.med.monash.edu.au/medicine/alfred/research/sleep/links.html

Sleep Disorders Australia
http://www.span.com.au/apnea/contact.html


University of Newcastle
http://www.newcastle.edu.au/department/md/sleep/old/sstudy.htm
There was s book published last year (2000)by Allen and Unwin entitled Sleeping Soundly by Antonio Ambrogetti.who is, or at least was based at the University of Newcastle.


Dreamworkers in Australia (sorted alphabetically)
1. Writers and Artists Inspired by Dreams
Andy Griffiths http://www.andygriffiths.com.au
Kim Wilkins http://www.kimwilkins.com
2. Dreamworkers

Diane Bellchambers
Cosmic Pages Bookshop
338-340 King William St.
Adelaide, 5000

Carolyn Groth
P.O. Box 5035
South Broken Hill NSW 2880
carolyn_groth@yahoo.com.au

Inspiring Promotions
P O Box 123
Warburton Vic 3799
http://www.myssinstitute.com.au
Jane Teresa Anderson
jane@dream.net.au
http://www.dream.net.au
Dr.Peter Andrew O'Connor
poconn@netspace.net.au
33 Glenferrie Road Hawthorn
Victoria Australia 3122

Joan Hanger
http://www.thedreamclinic.com
Phoenix Ikon Institute
http://www.netspace.net.au/~ikonvic/
(Their website includes information about interstate courses)

I'm an Australian and have been interested in dreams most of my life.
"Mr. Sheen", a cartoon advertisement character, used to "point to a screen" on which I would dream from age about 2 or 3.

I have a four year old son and a seven year old daughter. I am delighted to say Emily, my daughter tells me about dreams she remembers.

I have exchanged email and in other ways corresponded with so many ASD members over the past few years that, when I could, I joined. I see ASD as a central focus for the many threads and tangents of association with the word "dream." Cyberspace needs some home bases. I believe that it is a positive step forward to have an International Online ASD presence.

My favourite dream ever was my "Mr. Sheen" dreams of childhood era, and many adult ones...especially one where I am walking down a road with roses that blossomed on a bush in my home garden...knowing there would be plenty of them for me to hand out to everyone (deep crimson and fragrant roses they were).

My favourite dream book? Ah...too many to pick just one, but definitely Inner Work by Robert Johnson was an entry point to my interest in things Jung. Our Dreaming Mind by Robert Van de Castle has a wide variety of topics. Ann Sayre Wiseman's Nightmare Help is great for inspiration if children are having nightmares. I keep an eye on the local bookstore shelves, and for notices here on the ASD bulletin board about new dream-related titles. I feel the bulletin board can be like a book itself.

List of dream-related publications and/or web sites where my work is featured.

Formal Chats are periodically arranged by ASD. For details, email: chat@asdreams.org

http://www.dreamgate.com
http://groups.yahoo.com/group/dreamchatters
http://home.alphalink.com.au/~mermaid/ed_ivs.htm

Victoria Quinton
P O Box 3009
Frankston East Vic 3199
AUSTRALIA
mermaid@alphalink.com.au
http://www.alphalink.com.au/~mermaid