---
Sakis Totlis is a well-known Greek author of novels, short stories, movie scripts, historical and philosophical books. On his novel "The combination" one of the most reknown Greek films of all times was based: "Balkanizater".

Sakis Totlis is an ardent researcher of the Dream, having formulated the dream interpreting method and theory of Space and Emotion.

So far he has published three books on the subject:

1. "Space and Emotion – an idea". An analytical introduction to the theory. Edessa 1992, 160 pgs.

2. "12 Dreams". Twelve dreams interpreted extensively according to the Space-Emotional method. Editions "Dolphin", Athens 1997.

3. "One dream and seven lawyers". A dramatized account of how the author conceived the idea and developed the theory of Space and Emotion. Editions "Patakis", 370 pages, Athens 2001.

Recently his work on Space and emotion was presented by "Archeology and arts". Editions "Lambrakis", issue 81 "Theories of dreams", Dec 2001, pgs 27-35. This was the last issue of a four-issue dedication to dreams in Greece:

· Issue 78, "Dreams in ancient Greece"

· Issue 79, "Dreams in Byzantine era"

· Issue 80, "Dreams in contemporary Greece"

· Issue 81, "Theories of dreams".

On the left you can get a sketchy idea of the lines along which the theory of "Space and emotion" unfolds. A more detailed introduction to the theory can be found at the site: http://users.forthnet.gr/pel/ati

* Special thanks to Sakis Totlis for his contribution in the whole Dreams and Greece project.

SPACE AND EMOTION

(Dream symbolism of literal reality)

A "dream" for conscience is fundamentally an "imaginative picture", formed briefly in the imagination during sleep.

This "made-up picture" is constructed by audio-visual material "borrowed" momentarily from memory.

This material is structured (condensed) on the basis of a hidden structural idea, which acts as an invisible guide-pattern.

This hidden structural idea is a real picture the dreamer actually "saw" during a "real" initial event of the day before.

So, in dreams we see specific "imaginary pictures" in the place of specific "real ones".

· Out of this basic claim a thousand questions may rise. Most interesting is to ask WHY? Why does conscience bother to perform this precise maneuver of substitution in dreaming?

Helpful reminders:

· "Symbolism" is defined as "(seeing) something instead of (seeing) something else".

· "Idea" is defined as a "classification principle" or a "structural guide-pattern".
---
CHARLES STEWART
Charles Stewart is Reader in Anthropology in University College in London and since 1983 has been conducting extended research in Greece (Athens, Thessaloniki, Naxos), a large part of it devoted to dreams and dreaming. His scientific interests cover an extensive field: Religion; history and anthropology; psychological anthropology, psychoanalysis, dreams; nationalism and ethnicity; diasporas and creolization; Greece, Mediterranean, Balkans, Europe.
BOOKS IN PREPARATION
Unconscious Traditions: A Cultural History of Dreams in Greece

ARTICLES (related to dreams and dreaming in Greece)

'Dream Incubation and the End of Ancient Greek Religion' (in Greek), in Arkhaiologia kai Tekhnes, 79, June 2001, pp. 20-25.
'Oi Oneirevamenoi: The Events in Koronos, 1930', (in Greek), Arkhaiologia kai Tekhnes, 80, September 2001, pp, 8-14.

"Dreams of Treasure as Unconscious Historicizations" (in Greek), in C. Hadjitaki-Kapsomenou (ed.), Greek Traditional Culture: Folklore and History, Thessaloniki: Paratiritis, 2001, pp. 120-27.
'Dreams' (pp. 514-16), 'Demons' (pp. 467-68) and `Anthropology, Social', (pp. 86-89), in Graham Speake (ed.), Encyclopedia of Greece and the Hellenic Tradition, London: Fitzroy Dearborn, 2000.
`Fields in Dreams: Anxiety, Experience and the Limits of Social Constructionism in Greek Dream Narratives', American Ethnologist, 24, 4, 1997, pp. 877-894.
`Europe: South', `Dreams', `Great and Little Traditions', pp. 210-13, 165-66, 267-69. In ,A. Barnard and J. Spencer (eds) Encyclopedic Dictionary of Social and Cultural Anthropology, Routledge, 1996.
ARTICLES IN PRESS
`Erotic Dreams and Nightmares from Antiquity to the Present', Journal of the Royal Anthropological Institute (Malinowski Memorial Lecture).
---
Konstantin Gemenetzis
DREAMS

"Dreams are prophetic." It is the position of the dream-book.
"Dreams are wish fullfilments." It is the position of psychoanalysis.
"Dreams are the outcome of neurochemical processes." It is the position of neurobiology.
"Dreams are a therapeutic tool." It is the position of most psychotherapeutic methods.
Positions. We adopt them easily. Rarely do we recall that a position doesn't exist on its own, but answers a question. More rarely do we recall that the question has already determined the form of the answering position. And even more rarely do we question this very question. The steps outlined above demonstrate the course that the present discussion of dreams is going to take.
The dominant positions on dreams, saying "Dreams are this and that ...", are answering the question: "What are dreams?"
What are dreams? This time we are not going to satisfy the question and its claim to be answered. We 'll not just hear it. We 'll hear it out.
What are dreams? The answer that just hears accepts and satisfies the unspoken imperative of the question, that dreams ought to be perceived of as a "what", as something. Something - what? It is here at last that the answer will do the speaking. It will overtake the dreams, it will bring and place them to the "something" each time thought of :
o to the prophecy that violates the unrevealing of things to come, the boundary of "not yet"
o to the wish, even the most impossible one, that has to be fullfilled at any cost, even in fiction, even in the so called "hallucination" of the dream
o to sciences' claim to certainty, for the sake of which dreams are reduced to their measurable and countable elements, a faint remnant of their former entirety
o to the expedience of a "therapeutic process" that defines them as waste products of awakeness and draws what it has attributed to them itself.
By this, we can speak it out now, fatal question: "What are dreams?" the way has allready been opened wide for violating their measures, commiting an hybris that forces dreams upon the procrustean bed of the perceptions of a wild arbitrariness.
By what kind of nature are dreams so vulnerable to man's hybris? It is perhaps that they speak the language of signs: neither do they tell nor do they conceal (Heraclitus). They are reluctant to unlimited disclosure, as intended by the dream-book and the dominant psychoanalytic theory, they are reluctant to unlimited concealment and muteness, to which neurobiology and the science of behaviour sentenced them.
Dreams speak the language of signs. Neither do they tell nor do they conceal. A., whom you dreamt of, is the one you know from awakeness, and at the same time is not. And if you have the ethos and the heart to respect the A. dreamt of, you need to let her inhabit the world in respect of herself. Neither are you allowed to identify her with the A. from awakening nor to declare her a hallucination.
That what tells, but while telling conceals, that what conceals, but while concealing tells, has the property of the sign, that which is never as-signed to "something", never denying itself.
Dreams assign - intransitively. Their vulnerability relies on their very nature: Every saying about dreams will violate their measures either by saying too much or by concealing too much.
It is necessary, and this could also be the way of a therapeutic encounter, that we defend those measures letting their violations become discrete, pointing them out and forbidding them - as far as our concern is that dreams remain dreams and man remains man: finds his self here also, in his dreams .


BIOGRAPHICAL NOTES
I come from Thessaloniki having my origine in Eastern Thrace.
I studied Medicine in Thessaloniki, Psychology and Philosophy in Tuebingen and trained in Psychiatry and Psychoanalysis (Daseinsanalyse) in Zurich.
I am practicing psychoanalysis in Athens and in Thessaloniki along with teaching and writing activities.
CONTACT
Adresses: Marasli 37, GR - 10.6 76 Athens / Karolou Dill 6, GR - 546 23 Thessaloniki
Tel.: +30 10 7213534 / +30 310 271768
Fax: +30 310 310299
E-mail: gemenetzis@yahoo.gr
PUBLICATIONS
See Greek version
---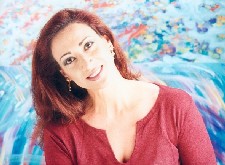 LIILA KOUFOPOULOU
DREAMS?
Often we think that dreams are nothing but inconceivable scenes where actors are playing a role that you cannot guess as the epilogue and an echo that worries or /and brings you anxiety.
But the truth is that dreams can be a unique theatrical stage where your soul projects for you - the only spectator - the play which yourself and your soul created, directed and applauded.
Their strong impact attracted me to create a series of paintings under the same title -"DREAMS"- which completed the third part of my visual art research in abstract forms, called "TRILOGY ABOUT SOUL".
"DREAMS" in my Art world:
The third part of my art creation "TRILOGY ABOUT SOUL" ( www.lilakoufopoulou.gr ) under the title "DREAMS" was born - according to the story - under Psyche's need to "dive" into this wonderful, invisible world of the unconscious (that can light the dark sides of the soul, teach sufficiently the self-development and add to the creativity and the removal of the feeling of the unknown) to "dive," in order to understand the truths she was choosing - without her conscious will - to ignore.
In "DREAMS," Psyche, pulls up every stimulus that becomes a revealing answer for her and expresses it visually by an abstract but dreamy form, like an illustrated proposal of old oracles of Pythia.
So, Psyche meditates through and with her soul inspired by her own dreams, her own personal symbolisms and answers, that like living images, like guardian angels help her to decide, to hope, to see the invisible, to recognize the familiar and make known the unknown, in her attempt to exorcise fear and meet the catharsis, while at the same time welcomes the next life challenges.
As if in scenery of a fairytale, the archetype image of this new series of paintings unfolds in Delphi-GREECE, where near a spring by the sanctuary of the oracle, Psyche appears. We meet her, while she admires the magic of nature and wonders:
"Is this beauty I live a dream?" admits to tenderly smiling to the breeze that keeps her company whispering,
"But if what I experience is a dream, what is then what I see when am I sleeping?" This is how the conversation with her dreams starts.
My series of "DREAMS" is dedicated to:
- all those who believe and are inspired by dreams in their sleeping and their "real" life,
- all those who believe that dreams can become reality when you put your heart and soul into them, and,
- all those who respect not only their own dreams, but also the dreams of others, helping both themselves and others to make them reality, adding enormously to the creation of a new, flourishing world that gives real value to our human existence.
Lila Koufopoulou
Copyright 2002, Lila Koufopoulou
C.V.
Lila Koufopoulou was graduated from TUFTS UNIVERSITY and the SCHOOL OF THE MUSEUM OF FINE ARTS IN BOSTON in 1992 holding a Master in Fine Arts in the area of Art and Technology, by creating the abstract video piece "CHAOS & PSYCHE," after her studies in the ATHENS SCHOOL OF FINE ARTS - department of painting.
During that time she won 5 scholarships from the above Universities and the GERONDELIS FOUNDATION in Boston and she worked as a Teaching Assistant in the course: "Advanced Concepts in Graphic Communication."
In 1986 she graduated from the EUROPEAN INSTITUTE OF MARKETING AND COMMUNICATION STUDIES holding a CAM Diploma, and,
in 1982 she graduated from the department of Graphic Arts in holding a GRAPHIC ARTS Degree at the "A. PETRA SCHOOL" in Athens.
She worked for almost a decade in the area of Advertising as an Art Director,
Graphic Designer and Visualizer, as well as an Account Manager in many international and Greek advertising companies in Athens - Greece.
In 1984 she won the National Prize in the European Competition
" EUROPE AND MY FUTURE," organized by the EUROPEAN COMMUNITY and
the INTERNATIONAL ADVERTISING ASSOCIATION.
Next year, she was the representative of Greece in the "EUROPEAN YOUTH WEEK 1985" in Paris and Normandy, organized by the "ASSOCIATION DES JEUNES POUR L'EDUCATION, LA CULTURE AND LES LOISIRS," and, received
a "Medal of Honors" by the President of the Council of Manche and the Vice President of the General Council of France Mr. J. Marigné.
In 1975 she designed for the "FASHION DESIGN COMPETITION FOR YOUTH TALENTS," organized by ATHENEE STORES and TACHYDROMOS Greek Magazine, and, received the
FIRST PRIZE, two COMMENDATIONS and a TWO-YEAR SCHOLARSHIP at the
"J. TSOPANELLIS SCHOOL OF FASHION DESIGN."
She is a member of the "Greek Alumni of American Universities" in Athens, the "TUFTS ALUMNI CLUB" and the "ASD."
Her artworks are included in many private collections, organizations and companies in Europe and USA.
SOLO EXHIBITIONS:
2002: CENTER FOR VISUAL ARTS G. KARIDIS, FILOTHEI - GREECE,
"Dreams"- the third part of the visual trilogy "ABOUT SOUL," ( acrylic paintings ).
2001: CENTER FOR VISUAL ARTS G. KARIDIS, FILOTHEI - GREECE,
"Games of the Soul," - the second part of the visual trilogy "ABOUT SOUL," (paintings and, poems specially created for them).
1994: LILA'S ART-STUDIO, ATHENS - GREECE, "
"Artworks / Paintings 1987-1994."
1992: AIDEKMAN ARTS CENTER - TUFTS UNIVERSITY, MEDFORD MA, USA,
"Chaos and Psyche"- the first part of the visual trilogy "ABOUT SOUL",
(abstract Video Art - Thesis Exhibition).
GROUP EXHIBITIONS:
2001: HOTEL ELOUNDA MARE, (Paintings).
2001: GROSSMAN GALLERY- SMFA, BOSTON, USA, "(Paintings).
2000: GROSSMAN GALLERY- SMFA, BOSTON, USA, "(Paintings).
1992: MUSEUM OF FINE ARTS IN BOSTON, USA,
"1992 TUFTS/SMFA Graduates' Artworks in the art field of Video & Film," (Thesis Video Art).
1991: GROSSMAN GALLERY- SCHOOL OF THE MUSEUM OF FINE ARTS IN BOSTON, USA, "The Tree of Knowledge" & "Chaos and Fire"- (Video Art).