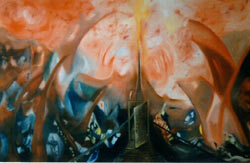 In Austria we have a varied palette of dreamwork: dream yoga, dream inspired art, dream events, intuitive dreamwork, various dream therapy and scientific dream research. Most of the Austrian dream researchers are interested in other ways to explore dreams, but until now there has been nearly no networking. I hope this dream online guide will be a first step to more networking among the dreamworkers of Austria!

Alfred Ballabene

Yoga teacher and dream worker from Vienna, born in 1937. He published hundreds of interesting sites about dream work, dream symbolism, Out of Body-Experiences,astral projection, Yoga and meditation in German, English or Spanish language. e-mail: Alfred.Ballabene@univie.ac.at

http://astral.lichtnetz.eu.org
http://mailbox.univie.ac.at/Alfred.Ballabene/english/engindex.htm
http://phoenix.akasha.de/~alfred/dreamindex.htm
http://www.spiritonline.com/main.html

Evelyn Doll
ArtPaintingDreaming
KunstMalereiTraum

She is the assistant of Dr. Brigitte Holzinger of the "Institut für Bewusstseins- und Traumforschung" (Institute OF CONSCIOUSNESS AND DREAM RESEARCH) in Vienna. Psychologist, dream inspired painter and writer, born in 1969. Look at a painting of Evelyn Doll at the left.
DREAM COORDINATION OFFICE

The Dream Coordination Office was called to life on March 8, 1999 by Charlotte Eckler and Lisa Rosenblatt as a collaborative project for dream coordination, support and realization. The work of the office consists of publications (the dream times, the dream chronicles, dream book series, various articles), exhibitions and events as well as documentation of the 'dream project'. The office is located in Vienna, Austria although activities are worldwide . The Dream Coordination Office is particularly interested in offering an introduction and link to feminist, human rights and ecological projects and utopias.

http://www.t0.or.at/~charlottes.web/dco.htm
http://www.t0.or.at/~charlottes.web/publicat.htm#Dreamscope

INSTITUT FÜR BEWUSSTSEINS-UND TRAUMFORSCHUNG
DR. BRIGITTE HOLZINGER
Institute for consciousness and dream research Dr. Brigitte Holzinger founded the Institute for research of consciousness and organized among other activities the symposium "Dreaming and Consciousness" (Vienna, 1998). The institute organizes research projects, workshops, seminars and lectures. Dr. Holzinger integrates lucid dreaming in psychotherapy and researches dream behavior, lucid dreaming, sleep behavior and sleep architecture and Gestalt therapy. Dr. Brigitte Holzinger is psychotherapist and lecturer at the Institute of Psychology, Webster University, and University of Innsbruck. She is on the board of directors ASD (2000-2003).

http://www.traum.ac.at
http://www.focus.at/archiv/artikel/luzide.htm
http://dreamtalk.hypermart.net/2001/abstracts/2001_holzinger_graff_01.htm
Psi Dreaming Between International Locations - Implications And Challenges

e-mail: brigitte.holzinger@chello.at

HARALD RICHARD MEDER
P.O. Box 79, A-1031 Vienna, Austria
Fax: +43 (0)3856 61818
praxis@traum-meder.de
Founder of MUGA, depth psychologist and parapsychologist, management consultant and management trainer. Head supervisor of the German center of individuation in Algarve, Portugal. Director of European MUGA Academy, Costa Blanca, Spain. He offers ­ in German language! - individual coaching, training for MUGA-teachers, training in intuitive dreamwork, online counseling, oneirological expert opinions and creative holidays.

KOANA TIN JABALI
P.O. Box 79, A-1031 Vienna, Austria
koa@traum-meder.de

Koana Tin Jabali, the assistant of Harald Meder, offers ­ in German Language! - online training for MUGA-trainers, basic training in intuitive dreamwork, online coaching and marathon encounters in Andalusia, Spain. She is the author of many articles about intuitive dreamwork.
TRAUMHÜTTE
Dream hut

Traumhütte: http://members.1012surfnet.at/traumhuette/
Bernd.Schaudinnus@greenpeace.at

Traumhütte is a group of active dreamers, working with shamanistic techniques and art therapy. They interpret dreams like W.Keyserling, practice lucid dreaming and out of body experiences. They organized Castaneda-trainings, too.

JOHANNA VEDRAL, MS

Psychologist from Vienna, ASD member, dream inspired art and writing, actually working on a study about spider dreams. Coordination of dreamwork in Austria, moderator of a dream sharing group in German language (Traumgruppe).

Johanna Vedral about her work:

I cut collective pictures to pieces and put them new together. My collages are doors to new rooms of fantasy. Where the observer looks first, his story begins ­ and the pictures start flowing, telling new stories, stories without words... Enter the world of dreams!
e-mail: johanna_vedral@hotmail.com

http://dreamtalk.hypermart.net/members/johanna_vedral.htm
http://groups.yahoo.com/group/Traumgruppe
http://www.geocities.com/johanna_vedral/ homepage_johanna_vedral.html
http://www.geocities.com/johanna_vedral/viennadreaming.html
http://www.geocities.com/johanna_vedral/traumcollagen.html
Dream Therapists in Austria
Wien:

Diem-Wille Gertraud, ao.Univ.Prof.Dr.phil.
1190 Wien, Weinberggasse 1
Tel.: (01) 368 24 79
1190 Wien, Leidesdorfgasse 15-17

Flament-Schedl Anna, Dr.
1130 Wien, Lainzerbachstraße 7
Tel.: (01) 804 23 61
Tel. & Fax: (02239) 2239 (um ca 7:oo früh!)

Heinz Hettich
1010 Wien, Habsburgergasse 10/5
Tel.: (01) 533 10 80 - 13
Fax: (01) 485 20 99
hhettich@netway.at


Dr. Renate Hutterer-Krisch
1210 Wien, Kantnergasse 51
Tel.: (01) 290 14 79
hutterer-krisch@utanet.at

Judith Kerschbaumer
1180 Wien, Martinstraße 3/14
Tel.: (01) 409 26 31
judith.kersch.koe.ku.kr@aon.at
www.psyonline.at/kerschbaumer

Als Gruppenpsychoanalytikerin (aus der Schule Freud) und als Kunsttherapeutin arbeite ich in meiner psychotherapeutischen Praxis immermitdem Königsweg zum Unbewußtem, dem Traum. Ich selber führe noch immer ein eigenes Traumtagebuch,nicht nur zur Psychohygiene.


Mag. Rudolf Kunert
1080 Wien, Maria-Treu-Gasse 6/9
Tel.: (01) 406 43 85 [=auch Fax]
kunert@utanet.at

Ladenbauer Wolfgang, Dr.med.
1070 Wien, Burggasse 6-8/9
Tel.: (01) 523 21 99
1060 Wien, Münzwardeingasse 8/6

Martin Marianne, Dr.phil.
1180 Wien, Sternwartestraße 21a / 13
Tel.: (01) 479 64 58 - Fax: (01) 440 72 90

Matzke Martina
1160 Wien, Lambertgasse 9/1
Mobil: 0664 - 500 97 31


Mendler-Schadt Irmgard, Mag
1130 Wien, St.Veitgasse 24/5
Tel. & Fax: (01) 914 70 11

Plattner Herta, Mag.phil.
1180 Wien, Anton Frank-Gasse 6/7
Tel. & Fax: (01) 470 20 98


Sommergruber Bernhard
1010 Wien, Börsegasse 9
Tel.: (01) 532 15 15 - 13
Mobil: 0676 - 319 96 36
psycho@therapeut.at


Stephanie Waldert
1060 Wien, Webgasse 45/21
Mobil: 0664 - 351 351 9
waldert@web.de


Mag. Elisabeth Widensky
1090 Wien, Canisiusgasse 17/7
Tel.: (01) 319 19 23
Fax: (01) 317 32 63
e.widensky@glueckloseschwangerschaft.at


Mag. Claudia Wohlhart
1040 Wien, Schönburgstraße 52/9
Tel.: (01) 503 29 19 oder 971 31 74
Mobil: 0699 - 1 971 31 74
claudia.wohlhart@lion.cc


Zumer Peter, Dr
1020 Wien, Blumauergasse 15/9
Mobil: 0699 - 1 214 91 67
2700 Wr.Neustadt, Baumkirchnerring 7
Tel.: (02622) 28085

Niederösterreich:

Dr. Heinz Bixa
2114 Großrußbach, Berggasse 8
Tel.: (02263) 6600 - Fax: 6800
h.bixa@innonet.at


Dr. Eva Harramach-Till
2340 Mödling, Gärtnergasse 4-8
Telefon: (02236) 22 500
eva.harramach-tyll@1012surfnet.at

Neulinger Sonja
2620 Neunkirchen, Rohrbacherstraße 23/2
Tel.&Fax: (02635) 71 470

Weber Maria
2630 Ternitz, Gfiederstraße 8/III/2
Tel.: (02630) 20704

Oberösterreich:

Bräu Reinhold Rudolf, Mag.art
4020 Linz, Rainerstraße 15/1
Mobil: 0664 - 532 48 36

Lackner Karin, Mag
4020 Linz, Stockhofstraße 3
Tel.: (0732) 60 60 00


Salzburg:

Dr. Renate Frühmann;
Marx-Reichlich-
Str. 12/13; 5020 Salzburg
Tel.: 0662/62 32 77

Stadlhuber-Gruber Agnes, Dr.phil.
5020 Salzburg, Franz-Josef-Straße 41
Tel.: (0662) 87 82 62 * Fax: Dw.4
agnes.stadlhuber@utanet.at

Tirol:

Heinz-Possert Gerhild
6020 Innsbruck, Bürgerstraße 20/2
Tel.: (0512) 570 631

Peham-Vogl Ingeborg Maria, Dr.phil
6020 Innsbruck, Schneeburggasse 2a
Tel.: (0512) 29 40 75

Sprenger Klaus
6020 Innsbruck, Ampfererstraße 6
Tel.: (0512) 27 75 91

Vorarlberg:

Psychoanalytisches Seminar Vorarlberg - PSV
Als psychoanalytisches Aus- und Weiterbildungsinstitut spielen bei uns
Träume und Traumdeutungen nach wie vor eine gewichtige Rolle, dies sowohl in Theorie als auch in der Praxis. Leiterin: Dr.Amelia Wagner-Partel e-mail: amelia.wagner-partel@psychoanalyse.at
www.psychoanalyse.at

Loacker Regina, Mag.phil.
6840 Götzis, Thomas-Lirer-Weg 43
Tel.: (05523) 51792
regina.loacker@utanet.at


Hildegard Filler
6900 Bregenz
Anton-Walser-Gasse 8
Telefon: (05574) 744 26
Fax: (05574) 876 26
filler@aon.at

Steiermark:

Lasser-Korytko Eva, Dr.
8010 Graz, Leitnergasse 15
Tel.: (0316) 46 61 09
8010 Graz, Schönaugürtel 53
Tel.: (0316) 82 11 99 - Fax: Dw. 10


Kärnten:

Schweinzer Margarete, Prof.Mag.Dr.phil.
9020 Klagenfurt, Feschnigstraße 72
Tel.: (0463) 411 49

Wieser Elfriede, Mag.phil.
9800 Spittal/Drau, Schillerstraße
Mobil: 0676 - 410 32 52
9800 Spittal/Drau, Tangernerweg 13
Tel.: (04762) 2927-0 * Fax: Dw.73